Germ Ninja
Starts at: $89.99
Features:
– Kill bacteria, viruses, germ: Kill mould, flu, virus, fungus, canine parvovirus, E.coli, etc.
– Kill Dust Mites: Let the bed, sofa, blanket, pillow, towel no longer make the skin itchy and red.
– Remove bad odors: Remove the odors which people can't endure in trash can, toilet, kitchen, refrigerator, wardrobe, shoe cabinet, warehouse, etc.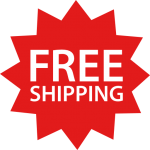 Product Description
Specification:
Product name:UV Sterilizer Light
Material: Quartz
Voltage:110-220V
Rated power:38W
Size:2460*200MM
Wavelength: 254+185nm
Timing: 30 minutes, 60 minutes, 120 minutes
Product List:
1*UV Sterilizer Light
1*Remote control(Send remote control according to the package selected by the buyer)
Note: This ultraviolet rays can cause skin and eye burns, so please be careful. Avoid long-term direct contact. It requires humans / animals to wait outside during the light disinfection process. The recommended use time is 30 minutes, and it takes more than 60 minutes to complete the ozone decomposition.
Precautions:
1. This product is for indoor use only. Avoid moisture and vibration.
2. It is strictly forbidden to cover the lamps during use.
3. It is strictly forbidden to use people and animals to look directly after the lamp is on to avoid burns.
4. Long-term exposure to ultraviolet rays will cause burns to the skin and eyes! Prolonged inhalation of ozone will damage the respiratory system!
Doors and windows must be closed during sterilization. People and animals must leave the premises.
5. The ozone structure is extremely unstable and generally decomposes in about 30-40 minutes, so please enter the room 30-40 minutes after turning off the lights and open the window for ventilation.
6. Frequency of use:It is recommended to use it once or twice a week for about 30 minutes each time.