MOOSOO L10 PLUS Cordless Shop Vacuum Wet/Dry/Blower 17KPa
$139.99
L10 Plus engineered to wet/dry cleaning tasks, comes with a crevice tool attachment and a wide nozzle tool, crush resistant 3-6ft hose. The 3-foot hose also locks compactly into the sidewalls of the drum, extends cleaning and blowing reach to 6 feet.
Powered by 200W High Water-Lift Brushless Motor to support max 17KPa superior strong suction.
2.7 Gallon large capacity. Intergated advanced safe buoy system, once water volume exceeds early warning line, warnings will work.
Suggest to store in a cabinet or pantry, with a wrap around storage solution, stable & compact storage in a car truck or van.
Out of stock
Product Description

【Wet/Dry/Blow 3 in 1 Shop Vac】The MOOSOO L10 Plus wet and dry vacuum cleaner meets various dust cleaning demands to remove wet and dry debris. Easy to switch as a blower for quickly drying the wet ground, blowing away fallen leaves and grass clippings in your yard and outdoors.
【Powerful Brushless Motor】200W Powerful brushless motor delivers Max 17KPA powerful suction and 500 hours service life by using an 18V Lithium Ion battery (battery included). Two speed power selections (high/low). The indoor & outdoor wet dry vacuum could provide 30 mins run-time of cordless power for unlimited reachability.
【Compact and Portable】Accessory on-board storage and hose organizer make it convenient and hassle-free storage. Top carry handle and shoulder strap for balanced and easy transport. Weighs only 6.6 pounds. Stable, flat-bottom design prevents the small wet vacuum cleaner from tipping over.
【High-density HEPA Filtration】Multi-stage filtration system including heap exhaust filter collects 99.99% of fine particles such as sand, sludge, wood chippings and DIY debris. This wet dry vacuum cleaner can provide ultimate purified air and excellent cleaning experience for every users. HEPA is washable and reusable.
【Applications Target】Benefit from its powerful adsorption function, it is very useful for household, upholster, garage, workshop, laundry, jobsite etc. With the cordless and portable design, it's ideal for car detailing, RV and truck camper. Multi-occasion Wet Dry picking: garbage/liquid in the workshop; ash while barbecue; mud while pitch tents.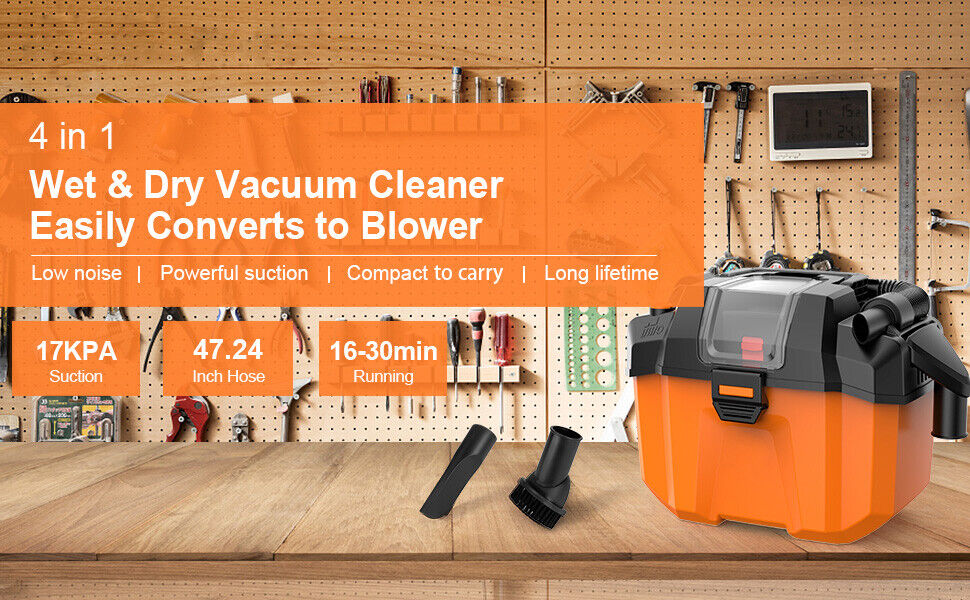 The Moosoo L10 Plus cordless shop vacuum can be used for nearly any occasion