Vectorfog C150+ Plus Electric ULV Cold Fogger with 6 Liter (1.5 Gallon) Tank 110/220V
$799.99
The C150+ Plus is one of the few electric ULV cold foggers approved by the Department of Defense and listed as an FDA approved medical device! VectorFog's flagship ULV cold fogger the C150+ is ideal for indoor as well as outdoor applications. With its large 6 litre (1.59 gal.) tank, this fogger can cover a large area without the need of refilling. Thanks to its fully adjustable droplet size between 5-50 microns, this fogger can be used to apply disinfectants, biocides and insecticides in a multitude of locations. With its powerful 1170 Watt LG motor, this fogger will give you years of durability and performance.
Used to apply disinfectants, sanitizers, deodorants, even insecticides
Enhanced air intake technology keeps this fogger cool during long periods of use
Powerful flow rate of up to 16 gallons per hour increases efficiency for high volume applications
Adjustable droplet size of 5-50 microns; ideal for applying different chemical treatments
Spray distance of 5-10 meters (16-33 feet) accommodates smaller facilities
Product Description
Ensure easy and even application of disinfectants, sanitizers, and insecticides with this Vectorfog C150+ electric ULV cold fogger with adjustable droplet size and 6 liter (1.5 gallon) tank! This ULV fogger effectively works to control both pests and pathogens and performs well during long periods of use. It features an enhanced air intake technology that reduces its core temperature by 20 degrees, keeping it cool even after hours of use. Plus, this fogger is light and quiet, causing minimal disturbance in your facilities. Thanks to its generous 6 liter (1.5 gallon) tank capacity, this fogger requires infrequent refills, prolonging its use during each application.
It also boasts a powerful flow rate of up to 16 gallons per hour, so you can cover large amounts of ground and save time. An adjustable droplet size between 5-50 microns suits a variety of your establishment's needs, whether you're applying sanitizing chemicals or insecticides. With a spray distance of 5-10 meters (16-33 feet) and an 80 degree angle, this fogger can save you time and energy while ensuring consistent chemical application. Reach for this efficient, user-friendly fogger to maintain hygiene in your school, restaurant, or other commercial establishment. This unit requires a 110/220V electrical connection for operation.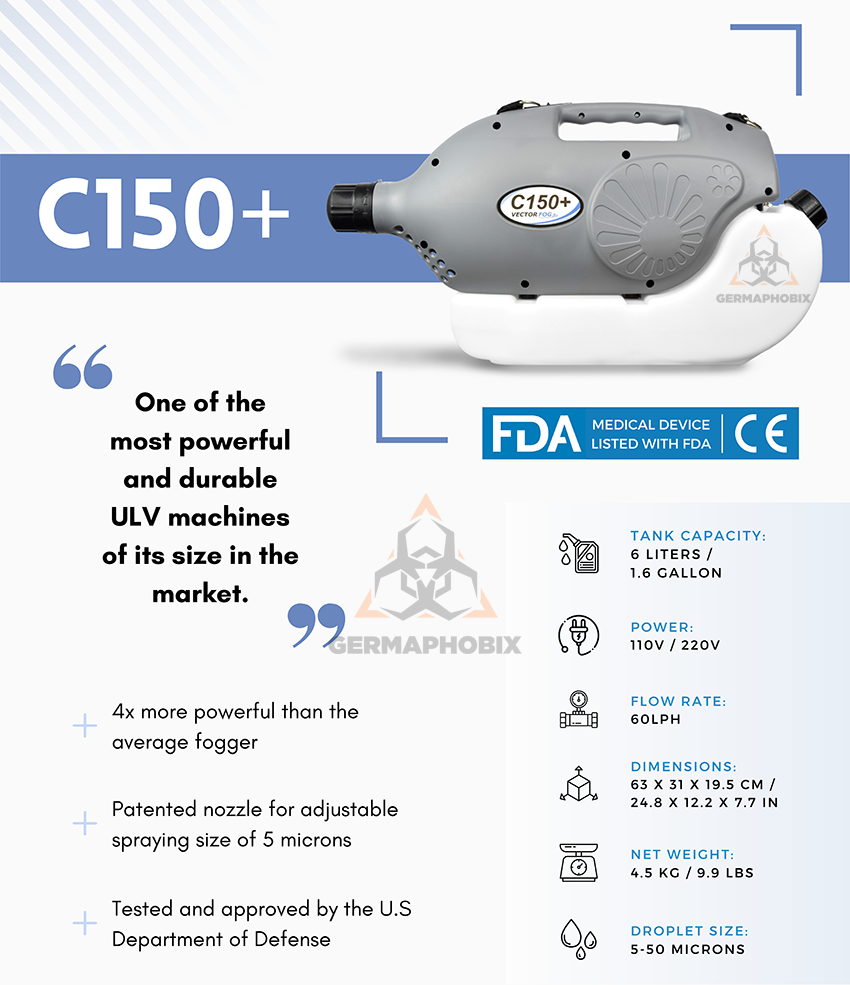 Specifications
Length
24 13/16 Inches
Width
19 1/2 Inches
Height
12 3/16 Inches
Voltage
110 – 220 Volts
Wattage
1,250 Watts
Capacity
1.5 Gallons (6 Liters)
Flow Rate
16 Gallons Per Hour
Spray Distance
16 – 33 Feet
Type
Foggers