26W Dual Lamp Whole Home UV-C Duct Mounted HVAC Air Purifier
$149.99
Fight poor indoor air quality with UV light purification. Whole home UV lights for HVAC sterilize your home's heating and cooling systems. They inhibit the growth of viruses, bacteria, mold, and other allergens and microbes within your system's AC/HVAC duct system. This 6″ dual bulb UV light designed to be installed in your ductwork to improve your home's air quality. Runs continuously to automatically purify the air in your home 24/7!
Dual 6″ UV-C Bulbs
110-120V, standard 3-prong plug
Ballast rated for a 100000 hour (10 year) life span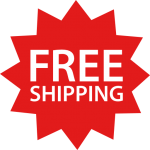 Product Description
Super Simple Installation:
Find a suitable location in your plenum or ductwork
Cut a single small hole into your ductwork
Insert UV Bulbs and mount purifier
Plug in and ensure proper operation by flipping the switch on!
HEIGHT 3″
WIDTH 4-1/2″
DEPTH 7-1/2″
WEIGHT (IN LBS) 2.0000
ADDITIONAL INFO Ballast: 5″L x 3¼"W x 2″H Bracket: 1¾"L x 2¼"W x 3½"H
UV LIGHT WARNING: Do NOT look directly at the light, this can harm your vision. A view port with a lens that protects your eyes from UVC rays is included, please use this to ensure proper operation.