BioMatrix Mold Air Filtration Network
$99.99
The Biomatrix Mold Air Filtration Network is a revolutionary system made up of micro air scrubbers, providing mold filtration throughout your environment. Each Biomatrix Mold Air Scrubber uses a mold remediation grade HEPA filtration system, designed to protect multiple locations throughout your environment from mold, viruses, allergens, and bacteria. Outlet shelf/stand not included.
Effective Against: Mold, Viruses, Bacteria, & Allergens
True HEPA Filtration 99.5% of Air Born Particulates
Full Environment Air Filtration System
Mold Remediation Grade
Compact Design
Whisper Quiet Technology
Filters are recommended to be replaced every 2-3 months.
Product Description
Our proprietary design uses a professional grade filtration system, a technology traditionally reserved for only mold remediation companies, large-scale manufacturing, and hospital facilities. This state-of-the-art mold air filtration network effectively captures 99.5% of airborne particles matter, down to 0.3 microns, including mold fine-particulates. Stop mold before it starts with BioMatrix Mold Air Filtration Network.
Cost-Effective Mold Air Scrubber
Normally to achieve full environmental coverage you would have to spend thousands on bulky, loud air scrubber units. The BioMatrix Mold Air Filtration network solves that problem. Our unique system creates a synergy with each of the mold air scrubbers in the network, allowing for professional-grade coverage at a fraction of the cost.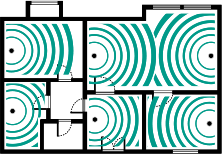 Stop Mold Anywhere
The BioMatrix Air Scrubber is ideal for almost any environment, with a compact design about the size of a small Bluetooth speaker. Each air scrubber uses our whisper-quiet technology producing 20% less noise than other comparable systems, ensuring that every BioMatrix air scrubber is nearly silent.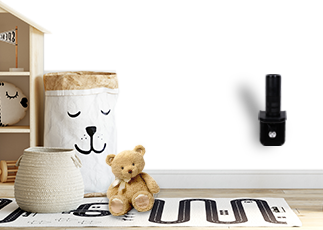 Don't Sacrifice Space
We believe that air filtration should be non-intrusive and non-obstructive.

We Talk You Through the Process
The prospect of beginning a mold remediation project can be intimidating. We understand that and can walk you through the entire mold remediation process step by step over the phone. Our trained experts are here to assist you from start to finish.