TRI-KLEEN 500UV Portable Negative Air Machine w/ Qlair
$5,995.00
TRI-KLEEN™ 500UV is an air filtration machine that will provide the most effective filtration available. It may be used as a standalone device or connected to your current HVAC system. Rooms with this unit installed into the HVAC unit can be a negative pressure environment, allowing for a safe environment for both care givers and occupants. This product has been designed to eliminate all airborne particulates by utilizing true HEPA filtration and UV-C germicidal light. It also features an 8" collar which enables it to discharge over 500 CFM of clean air outside, keeping other rooms in your facility contaminant free. No return air is brought back into the HVAC system thus decreasing the possibility to contaminate other areas of the facility.
Features:
Three fan speed settings (90-210-500 CFM)
Quiet operation (38-46) dBA
Color touch screen with state-of-the-art controls
Filter Health indicator with audible alarm when filter change is needed
Smooth-rolling swivel casters with two front brakes
TRI-KLEEN™ 500UV comes complete with an optional exhaust collar that will allow for a flex duct to be attached. This duct can be routed so that clean air is exhausted outside to create a negative pressure environment in a specific space.
Applications:
• Hospitals
• Dental offices
• Nursing Homes
• Restaurants
• Spas
• Hotels
• Schools
• Childcare facilities
• Gyms
• Barber shops
In stock
Product Description
The global crisis has had drastic impact on the way we perceive our buildings health and safety. i2M and qlair have partnered to assist businesses during this global pandemic. During a time of reopening after the impact of COVID-19, we hope to provide the confidence that your indoor air is healthy and clean.
Hospital grade, portable, lightweight clean air machine provides a high level of filtration and purification in 3 steps:
1. MERV 8 pre-filtration
2. HEPA filtration with removal efficiency of 99.97% for particle size < 0.3 micron
3. UV disinfection
Do you know which parameters are important amid the global COVID-19 pandemic? Of course high-touched surfaces but also air quality parameters such as:
Carbon Dioxide (CO2)
Particulate Matter (PM2.5)
Relative Humidity (RH)
Building management standards like ASHRAE and Health officials from CDC recommends to exchange the air in a space every 10 min to reduce the risk of virus spread. this means 6 air exchange per hour. CO2 level is an indication of lack of fresh air per induvial person in a closed space. It is recommended to keep the CO2 level below 800 ppm to reduce the risk of virus spread.
Keeping a safe indoor air quality at all time is as important as social distancing and wearing masks. More people in the room requires more air exchanges per hour and this can increase the cost of energy. By continuous monitoring the CO2 level you can optimize the capacity of every room.
Another important factor to monitor is PM2.5 level as noted here by Harvard University: https://projects.iq.harvard.edu/covid-pm/home
It is recommended to keep the PM2.5 level below 10ug/m3. Continuous monitoring will allow you to adjust the ventilation system to its optimum level to provide a safe indoor environment for your staff and customers.
Install certified sensors throughout your facility to track harmful pollutants and gather valuable data.
Benefits:
Analyze your indoor and outdoor air quality over time
Assess ventilation in critical areas of your facility.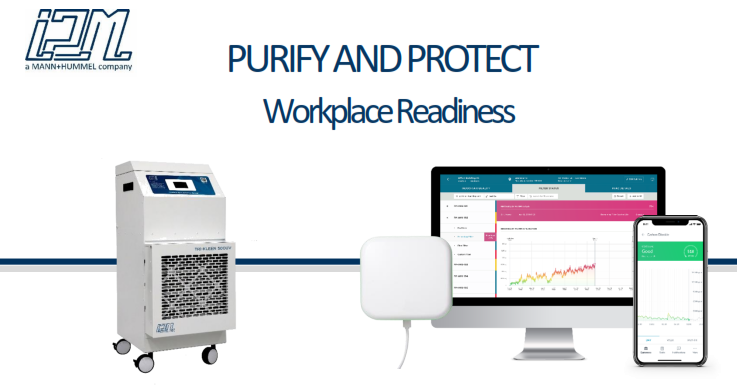 Indoor Air Quality Monitoring
Powered by qlair
Tracks harmful pollutants in your space to reduce risk of virus spread. Industry standard recommended levels are:
▪ Humidity level should be kept between 40-60%
▪ Fine dust (PM2.5) level should be below 10ug/m3
▪ Carbon Dioxide (CO2) level higher than 800 ppm can be indication of the lack of fresh air
▪ Peaks of Volatile Organic Compounds (VOC) can be indication of surface disinfections
Improper environmental control such as humidity and airborne particles have been shown to increase the risk of virus spread. We help you prepare your building for reopening by providing CLEAN AND SAFE INDOOR AIR.