Fehom 180 Pints Commercial Dehumidifier
$999.99
The Fehom Commercial Dehumidifier is a powerful and efficient solution for removing moisture in large spaces up to 7,000 sq. ft. With the ability to extract up to 180 pints of moisture per day, this dehumidifier is ideal for high moisture environments such as scientific researching, commodity storage, and underground engineering. Equipped with a built-in humidity sensor, it maintains room humidity at your ideal setting and features a high airflow rate of 380 CFM for quick dehumidifying.
With innovative semi-pneumatic wheels, a rigid handle, and automatic restart and defrost, this portable dehumidifier is convenient and worry-free to use. Fehom offers a 30-day money-back guarantee, 1-year warranty, 2nd-year warranty extension, and lifetime expert tech support for their customers' peace of mind.
Note: Depending on stock, we may send a similar model with a different color or brand. They will have the same features and functionality.
Product Description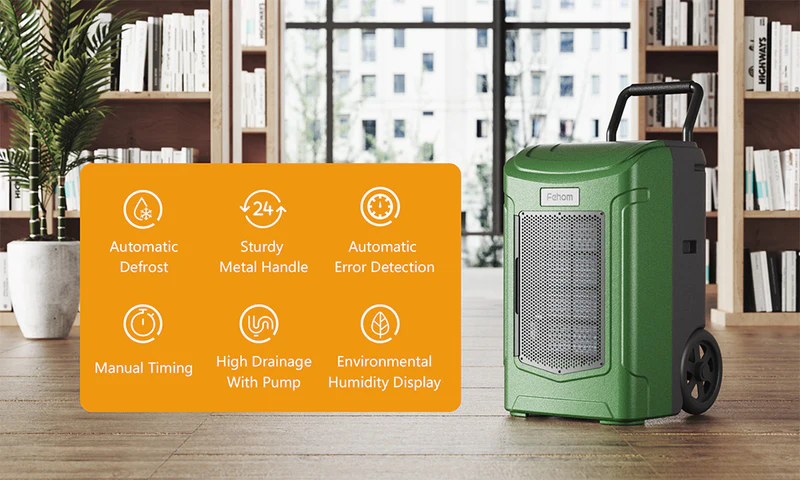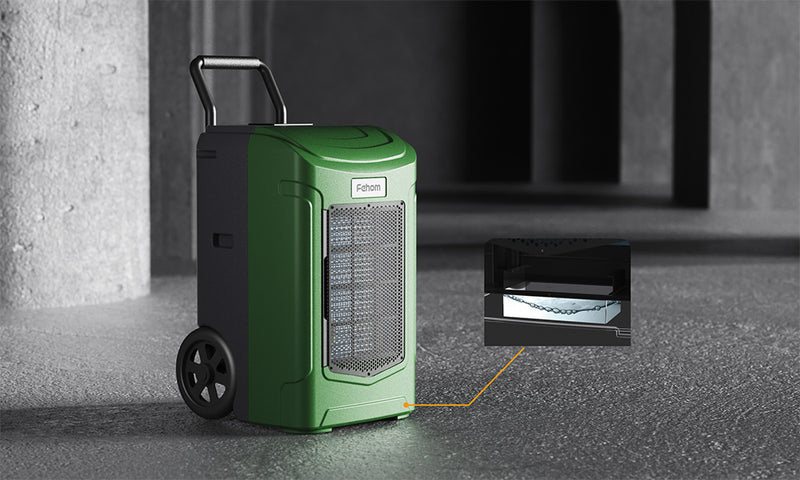 What's in the box?
Fehom 180 Pint Dehumidifier x 1
10 Ft Drain Hose x 1
Detachable & Washable Filter x 1
Power Cord x 1
User Manual x 1
Moisture Removal (95°F, 90%): 180 pints / day
Practical Room Size: 7,000 Sq. Ft
Air Flow Capacity: 350 CFM
Residential Use: Warehouse, Water Damage Restoration
Internal Condensate Pump: Yes
Continuous Drain Capable: Yes
Drain Hose Included: Yes
Drain Hose Length: 9.84 ft.
Humidistat: Yes
Clean Reminder: Yes
Automatic Defrost: Yes
Auto-Restart: Yes
Casters: Yes
Safety Certifications: ETL
Power Source: 120V / 60Hz
Dimensions (L x W x H): 19.69*21.26*32.68 inches
Weight: 90.39 lbs