Yaufey 32.7 Pints Dehumidifier (2,500 Sq. Ft)
$199.99
The Yaufey 32.7 Pints PD161D Dehumidifier efficiently removes up to 32.7 pints of moisture daily, perfect for spaces like homes or bedrooms up to 2,500 Sq. Ft. Easily set your desired humidity level using the simple controls and LED display. It comes with a built-in drainage hose for easy water removal and wheels for hassle-free movement between rooms. Ensure your air stays clean with its user-friendly filter.
Comes with a 1-year manufacturer's warranty.
Product Description
The Yaufey 32.7 Pints PD161D Home Dehumidifier for Spaces up to 2,500 Sq. Ft
Achieve optimal indoor comfort with the PD161D Dehumidifier, expertly designed to extract up to 32.7 PPD of moisture in peak conditions, ensuring your home stays mold-free and at a pleasant humidity level.
Suitable for areas up to 2,500 Sq. Ft, this energy-efficient unit is perfect for homes, bedrooms, bathrooms, and other indoor spaces.
Navigate with ease using its full-function electronic controls, paired with an illuminating LED display that lets you fine-tune humidity settings for your comfort.
The dehumidifier's built-in humidistat ensures consistent maintenance of your chosen humidity level, ideally set between 45-50%.
Enjoy added flexibility with its overflow protection and accompanying drainage hose, while the accessible air filter ensures clean air circulation.
Mobility is a breeze with its integrated four-wheel design, making room-to-room dehumidification effortless.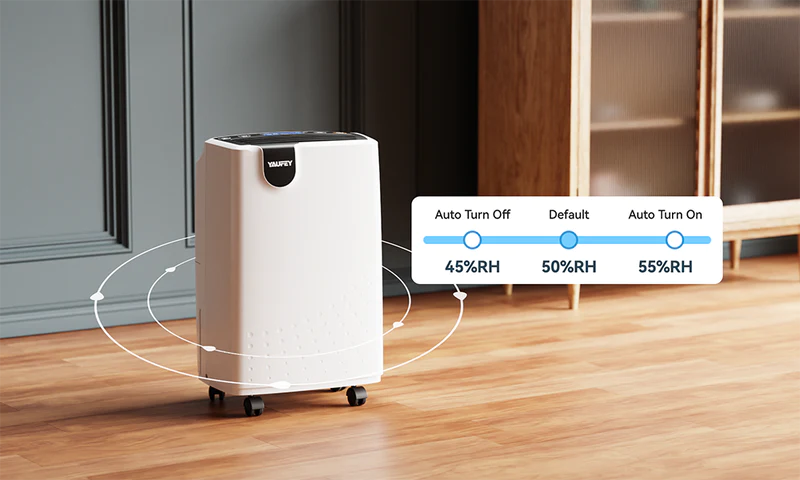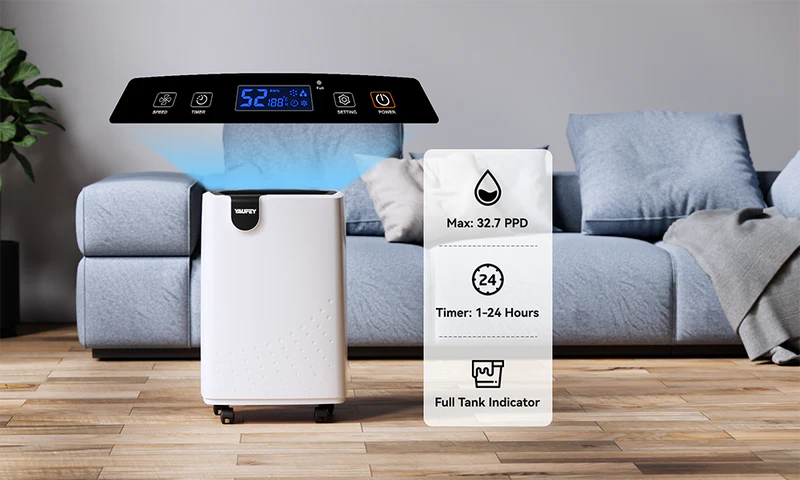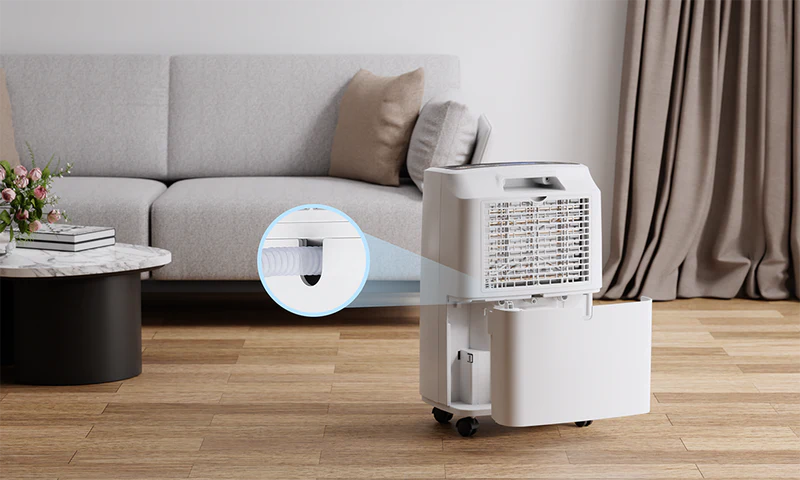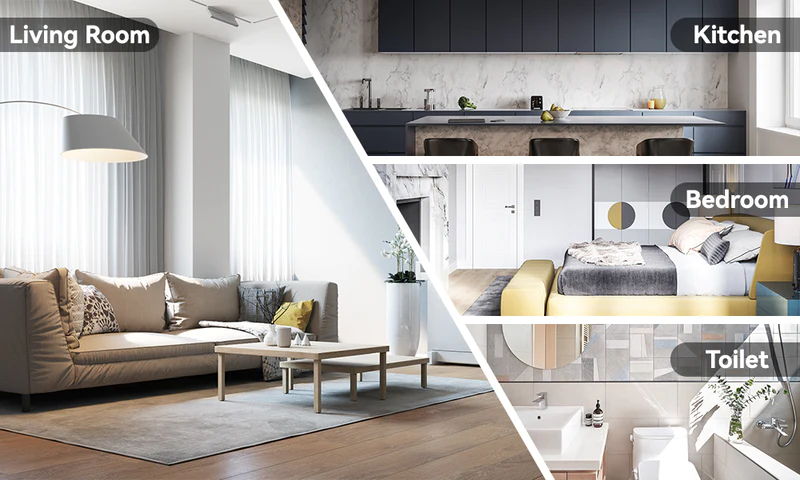 Moisture Removal (95°F, 90%): 32.7 pints / day
Practical Room Size: 2,500 Sq. Ft
Air Flow Capacity: 112 CFM
Residential Use: Bathrooms, Single Room, Living Space
Water Tank Capacity: 0.48 gallon
Full Bucket Indicator/Auto Shutoff: Yes
Continuous Drain Capable: Yes
Drain Hose Included: Yes
Drain Hose Length: 6.56 ft.
Humidistat: Yes
Automatic Defrost: Yes
Auto-Restart: Yes
Fan Speeds: 2
Filter Type: Washable
Casters: Yes
Safety Certifications: ETL
Power Source: 120V / 60Hz
Dimensions (L x W x H): 12.2*8.27*18.9 inches
Weight: 23.06 lbs