Easy Well Water Test Kit Pro + Bacteria, Lead, Pesticide
$149.99
Why wait for a lab analysis? Includes easy to read chart and instructions so you can quickly see if your well water is within the recommended range for the 11 contaminant parameters included in the test.   Our kit includes critical tests not normally offered such as Manganese and Sulfate, Lead and Pesticide.
These 15 parameters are a must-know for all well water owners and are designed to give you results accurately and rapidly.
Includes TWO tests each for 11 parameters PLUS 1 Total Coliform Bacteria Test, 1 Lead Test, 1 Pesticide Test, PLUS a Professional Grade Total Dissolved Solids ("TDS") and Temperature Digital Tester (Reg $39.95) that can be used repeatedly for years for accurate TDS analysis of water.
Bacteria test included is for total coliform bacteria ONLY. Want to test for E.coli too? Be sure to order the UV light option if you want to test for E.coli as well as total coliforms. For most customers, the total coliforms only test is a good place to start, as E.coli is more rare.
Includes liquid drop pH kit for additional 30 pH tests (Reg $19.95) as well as Hardness Test Kit Pro (Reg. $19.95). Test water repeatedly for pH Hardness, and TDS! Keep track of well water changes.
Our kit includes not ONLY high quality U.S. Made test strips but also includes pH drops, a manganese test kit and TDS Meter to get the results you need.
Product Description

FEATURES:
15 Easy to use test kits for immediate, accurate on-site results right in the privacy of your own home (Two Tests Each, 30 tests each for hardness and pH, plus 1 Bacteria Test, 1 Lead Test, 1 Pesticide Test, Plus TDS Test Meter).
Sealed in foil packets providing total protection for the patented test strips.
Pro-Grade digital TDS and Temperature Tester (battery included)
Safe to use. Fast, easy to understand results.
Two Tests Each for Alkalinity, Chlorine, Copper, Hardness, Iron, Manganese, Nitrate, Nitrite, pH, Sulfate
Includes 30 test pH test kit and also our Hardness Pro test kit with 30 tests each for pH and hardness.
1 Test for Lead, 1 Test for Pesticide
Includes tests for Sulfate and Manganese (not found in other test kits, but very important to test for!)
Free follow-up Technical Support if desired by WQA Certified Water Specialists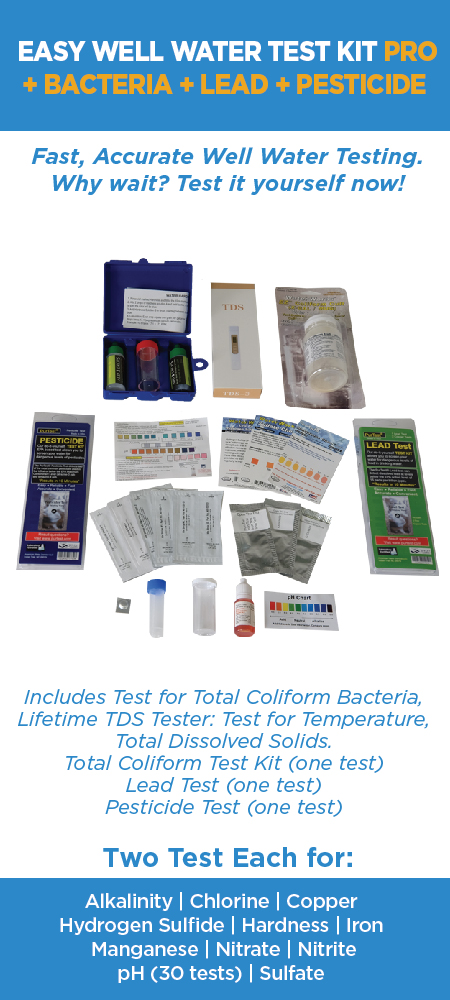 INCLUDES:
Test for Two Each for:

Alkalinity
Chlorine
Copper
Hardness (+30 additional tests)
Hydrogen Sulfide
Iron
Manganese
Nitrate
Nitrite
pH (+ 30 additional tests)
TDS (Total Dissolved Solids tester, unlimited tests!)
Total Coliform Test (1 test)
Lead Test
Sulfate
Pesticide Test