The Antivirus Electrostatic Backpack Sprayer
$2,999.99
Updated Version 2.0 Model (exclusive inventory)
CURRENTLY IN STOCK!! Limited availability due to high demand.
Decontaminate and attack viruses and microbes with the power of our state-of-the-art electrostatic disinfecting machine. Maximize your output and get up to 4x more surface coverage than with traditional cleaning equipment with this proven technology. One tank can cover up to 21,500 sq/ft of space in nearly any environment to help reduce infection rates even in the largest facilities.
Benefits of using The Antivirus Electrostatic Sprayer:
Consumes up to 65% less chemicals
Applies disinfectants up to 70% faster
Works with any EPA-approved, water-based disinfectant
No need for external power supply, one-button start, flexible and convenient
Military-grade waterproof standard, high-speed brushless fan
Intelligent automatic water cleaning cycle system
Multi-functional imported ceramic spray head, can be switched at will, ultra-low, can be used both indoor and outdoor
Built-in power display LCD screen can show working time and environment temperature at any time
Long continuous working for 6-8 hours indoors and 3.5 hours outdoors on a single charge
Intelligent fast charge-only two hours when fully charged, sustainable work
No pollution, zero emission, no exhaust, low noise
Large caliber water inlet
Warranty: 12-month limited warranty on parts
Current delivery time of 3-5 business days from shipping date. Processing times may vary.
For wholesale or bulk orders, please use the Contact us page.
Important Notice: This is not a pesticide device and is not to be used as such. This is only meant to disperse cleaning and disinfecting products according to those product instructions. We do not sell any pesticides or pesticidal products.
In stock
Product Description
The Antivirus Electrostatic Backpack Sprayer Specifications
Working Time: 9-10 hours indoors (fan off) and 3.5 hours outdoors (fan on)
Charging Time: 90 minutes
Effective Range: with fan 10ft-20ft (3 to 6 meters) and without fan 4ft-8ft (1 to 2 meters)
Tank Capacity: 10L (2.27 gallons)
Battery Type: Lithium
Particle Size: 10-50μm
Weight: ~17lbs
Motor: 90-260v
Rated Voltage: 24V
Battery Capacity: 30AH
Rated Power: 200W
Warranty: 12 months on parts
Compatible Disinfectants: Any EPA-approved, water-based disinfectant on List N or any of the disinfectants in our shop including Biocide 100 and ShockWave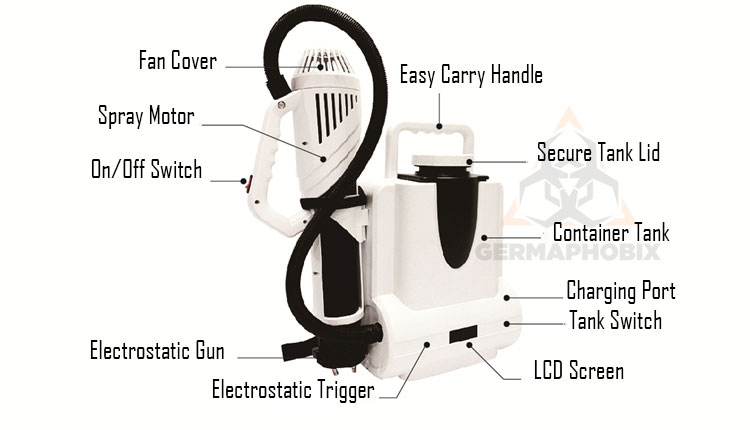 BEFORE AND AFTER ELECTROSTATIC SPRAYING EVALUATION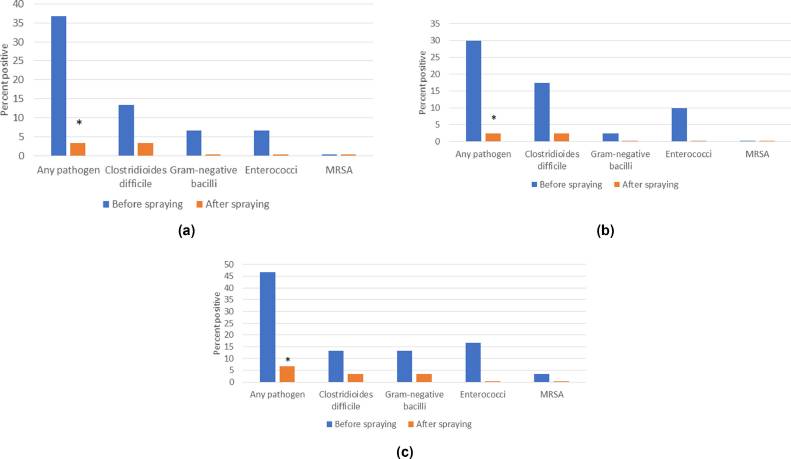 Link to study:
Evaluation of an electrostatic spray disinfectant technology for rapid decontamination of portable equipment and large open areas in the era of SARS-CoV-2
EPA's Evaluation of Electrostatic Sprayers…
Studies by the USA Environmental Protection Agency have demonstrated that electrostatic decontamination methods are more efficient, reduce waste, and deliver a more uniform distribution of liquids over uneven surfaces. The EPA found that electrostatic backpack sprayers used 75x less decontaminant than the traditional backpack sprayers. The study also demonstrated that the electrostatic sprayer had double the efficacy against biological agents due to the minimal amount of
runoff moving spores prior to their deactivation.
Link to the EPA study: Evaluation of Electrostatic Sprayers for Use in a Personnel Decontamination Line Protocol for Biological Contamination Incident Response Operations
U.S. Army Public Health Center on Electrostatic Sprayers…
The electrostatic sprayer positively charges the disinfectant as it passes through the sprayer nozzle. This generates positively charged disinfectant droplets that seek out negatively charged surfaces. The positively charged disinfectant droplets stick to the surfaces in a uniform coating that fully covers the targeted surfaces. Over-application is reduced because the charged particles will seek out an exposed surface area instead of adhering to each other. The droplets
are applied wet and left to dry, affording the required disinfectant contact time. The recommended disinfection ingredient for this process is a product that uses quaternary ammonium chloride because it is naturally positively charged and more chemically stable for the process. However, hydrogen-peroxide, hypochlorous acid, and bleach-based products can be used in the devices
Link to U.S. Army Public Health Center paper: USE OF ELECTROSTATIC SPRAYERS (FOGGERS) WITH EPA-REGISTERED DISINFECTANTS IN RESPONSE TO COVID-19
NHTSA's Office of Emergency Medical Services (EMS.gov) on Electrostatic Sprayers…
Operationally, a solution is pulled through the spray nozzle where turbulent air flow shears off droplets into small, reproducible sizes. Electrostatic sprayers apply a positive charge to the decon solution in the reservoir, at the nozzle, or both. Because the droplets exit the sprayer system with a positive charge,
they repel one another enroute to the surface to be decontaminated. This results in an even distribution of decontaminant across the surface and a "wrapping" effect where the spray wraps around multiple sides of an object and into hard to reach areas. The forces attracting the positively charged droplet to its target (most surfaces are either negatively charged or neutral) are approximately 75 times the force of gravity! This minimizes runoff by reducing the chance of droplets aggregating and then
falling to the ground as seen with traditional sprayers. Regardless of the decontamination application technology that you use, remember that best practices need to be adhered to…it's not magic, it's a tool to provide enhanced decontamination efficiency.
Link to NHSTA's Office of Emergency Medical Services report: Minimum Recommended Guidance on Protection and Decontamination for First Responders Involved in COVID-19 Cases – Detailed Reaction Guide
Diversey Technical Bulletin on Electrostatic Sprayers…
The use of electrostatic sprayers is gaining acceptance as a no-touch method for applying disinfectants and sanitizers to surfaces. Electrostatic sprayers have been used in the agricultural and paint markets for years, and are designed to convert liquids into uniform-sized droplets and then apply a "charge" to each droplet as it leaves the spray nozzle of the device. This charge attracts the droplets to untreated surfaces, while repelling these droplets from each other and treated surfaces, enabling them to "wrap' around surfaces or objects. This results in an even application (coating) of the chemical on surfaces, including hard-to-reach areas on the underside and backside of surfaces. These sprayers can help to improve labor efficiency while reducing chemical waste and overspray.
Link to Diversey Technical Bulletin: ELECTROSTATIC SPRAYERS AND DISINFECTANT USE 
CERTIFICATIONS by FCC, CE and RoHS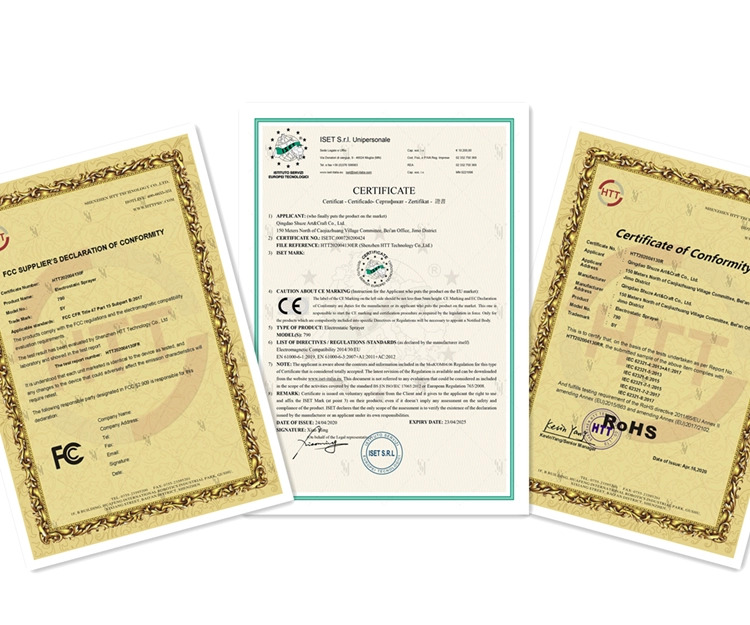 HOW ELECTROSTATIC SPRAYING WORKS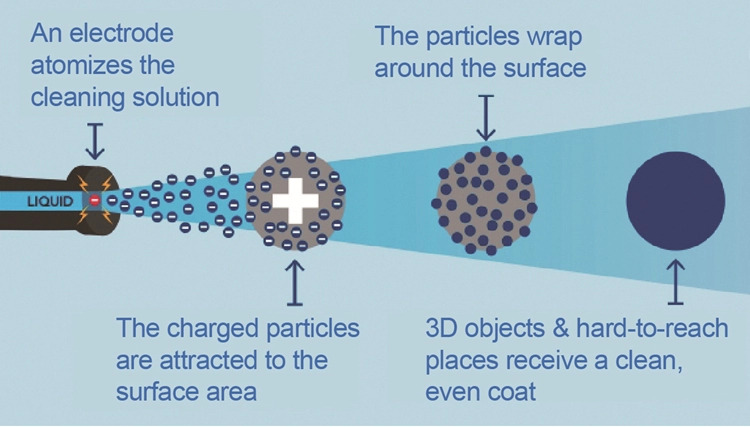 DISINFECT NEARLY ANY SURFACE IN ANY FACILITY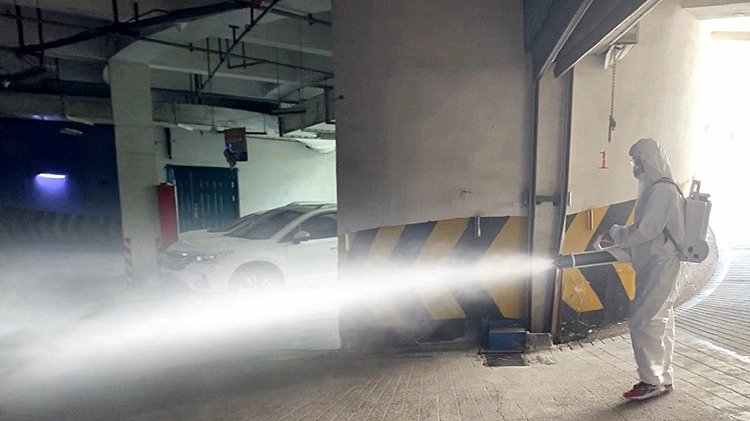 WHAT IS INCLUDED
Sprayer (1)
24V Charger (1)
Screwdriver (1)
Straps (1)
Nozzles (5) (10, 20, 40, 80, and 110UM/micron/micrometer sizes)
Sealing Ring (1)
User Manual PDF format (1)
Product Certification (1)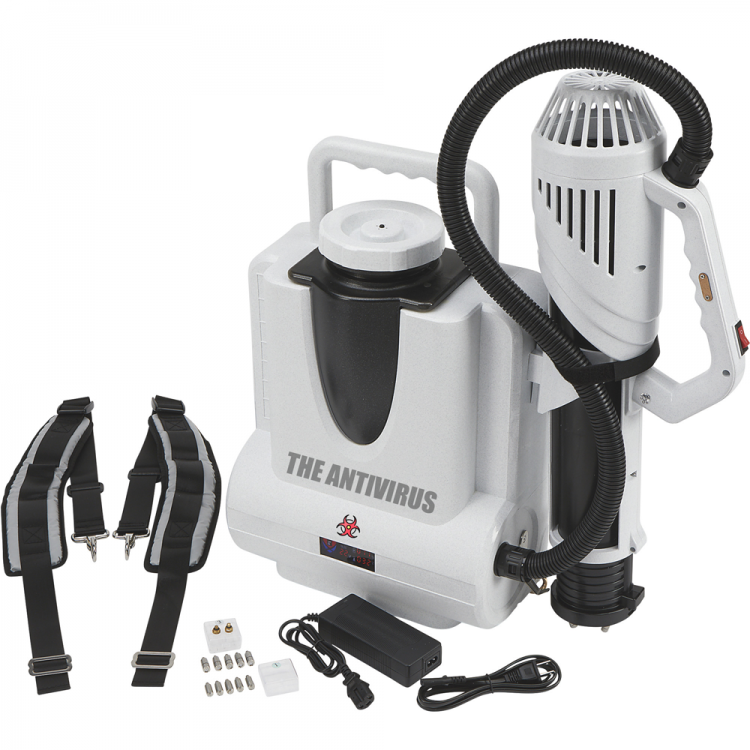 HOW TO USE AN ELECTROSTATIC SPRAYER PROPERLY
Using an electrostatic sprayer requires the user to take extra precautions before use. This includes the following:
Wearing rubber gloves and shoes with rubber soles
Removing any conductive materials from the body such as metal or steel objects as well as copper, aluminum, gold, and silver. This includes jewelry, keys and tools.
Never touch the nozzle once the electrostatic sprayer is turned on.
Do NOT use this device in the rain or when soaked in water or liquid.
This device is meant to be used on the back when in use and not on the side.
Only use the fan when outdoors. For indoor usage the fan is not necessary.
When done spraying, shut down the equipment and place the nozzle against an object or ground to eliminate residual static electricity.
 

| | | | |
| --- | --- | --- | --- |
| Victory electrostatic sprayer | Price: $2499 | Delivery: Sold out with no restock date | ❌ |
| Clorox Total 360 electrostatic sprayer | Price: up to $7500 | Delivery: Sold out with no restock date | ❌ |
| Protexus PX300S cordless electrostatic backpack | Price: $2499 | Delivery: 16 weeks | ❌ |
| EMist EM360 backpack electrostatic sprayer | Price: $4195 | Delivery: 8-10 weeks | ❌ |
| Germaphobix Antivirus Electrostatic Sprayer | Price: < $2499 | Delivery: 7-14 business days | ✅ |
Product terms and conditions
We do not and cannot make any claims as to the effectiveness of using this device for disinfecting purposes. You agree to purchase this device as a supplemental tool to aid your efforts in applying liquid products to surfaces and objects. We are not to be held liable for any misuse of this product. By placing an order for this product you agree to the estimated 7-14 business day delivery estimate for Priority Express Shipping and a minimum of 4-6 weeks for Free Standard Shipping. Due to the nature of this product, all orders are final and nonrefundable. Shipping couriers are responsible for any delays. Thank you for understanding and stay safe!
Additional Information
| | |
| --- | --- |
| Weight | 17 lbs |
| Dimensions | 29 × 10.6 × 26 in |