BioVex® Disinfectant
Starts at: $329.99
BioVex® Disinfectant is a hospital-grade pre-measured concentrate disinfectant. Ready-to-Use in Seconds. EPA & NSF Registered. Organic. Biodegradable. Easily store, transport, & ship. The BioVex® pre-measured concentrate reduces plastic consumption, fuel consumption, and waste.
Current available options:
3.25 oz. = 1 gal. RTU (12 gal. per case)
16 oz. = 5 gal. RTU (60 gal. per case)
15 gal. drum = 600 gal. RTU
30 gal. drum = 1200 gal. RTU
55 gal. drum = 2200 gal. RTU
Product Description
Why BioVex®?
BioVex® provides a safe and convenient system to reduce the spread of viruses, bacteria, mold, mildew, allergens and odors. It eliminates pathogens on all non-porous surfaces through oxidation in seconds to minutes.
The unique and proprietary blend of oxychloro chemistry of BioVex® works by attacking the surfaces of microbes and breaking them down completely. It works immediately on contact, and remains working until dried. No residual active compound is left behind so no rinsing is required.
WHY IT MATTERS
Neutral pH
pH is a measure of the relative amount of free hydrogen and hydroxyl ions in the solution. Solutions that have more free hydrogen ions are acidic, whereas solutions that have more free hydroxyl ions are basic. pH is reported in "logarithmic units". Each number represents a 10-fold change in the acidity/basicness of the solution. Solutions with a pH of 5 are 10x more acidic than solutions having a pH of 6. This makes BioVex® less corrosive to metals, flooring, and other finished surfaces and equipment.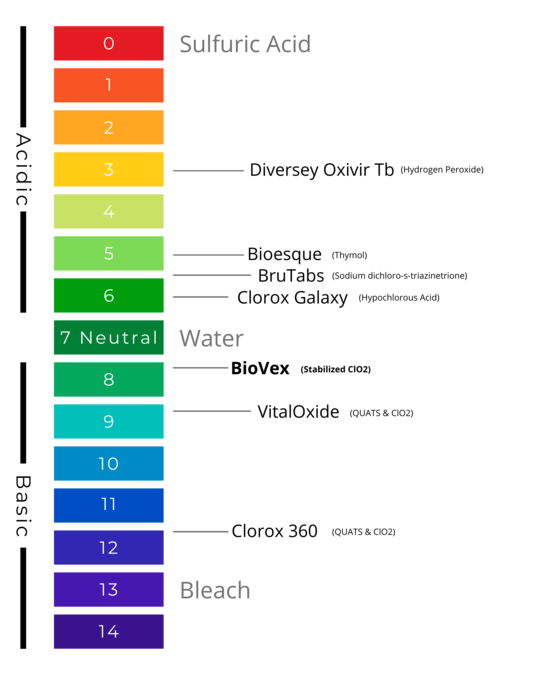 Use Cases
Additional Product Data
BioVex® User Prepared Solution Safety Summary
Additional Information
| | |
| --- | --- |
| Available Size(s) | 12 Gallons RTU (3.25oz x 12 per case), 60 Gallons RTU (16oz x 12 per case), 600 Gallons RTU (15 gallon drum), 1200 Gallons RTU (30 gallon drum), 2200 Gallons RTU (55 gallon drum) |